Main R&D Projects Currently Underway
R&D of the practical method of laser-arc hybrid welding for thick plates
JSTRA has developed a device that enables hybrid welding by automatic detection of gaps and weld seams through a combination of weld seam tracking and laser-arc hybrid welding technologies. JSTRA is currently engaged in comprehensive validation testing into one-sided full-penetration welding of T-joints and butt joints welding of long workpieces (up to a length of around 5m) using the device.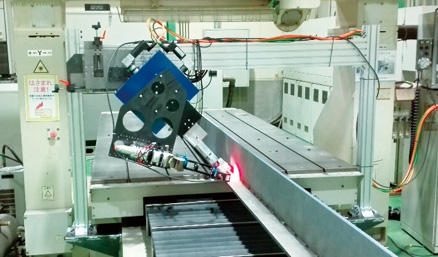 The weld seam tracking device under development
Robotic arm-type equipment
R&D of the ultra-high precision digital twin models for ship hull structures(Supported by The Nippon Foundation)
JSTRA is conducting basic feasibility studies for the development of basic technologies towards the creation of "digital twin" models of ship hull structures. Using high-precision simulation methods, these models recreate the structural behavior of actual ships throughout their lifecycle—from design to construction and operation—in a computer-driven virtual environment.
Development of cargo loading / unloading systems for liquefied hydrogen and the relevant rules for operation
In order to cater to the massive demand for hydrogen in future, it will be necessary to establish a series of hydrogen supply chains to facilitate the manufacture of hydrogen overseas using inexpensive brown coal or renewable energy sources, and to liquefy and transport it to Japan. JSTRA is currently engaged in the development of liquefied hydrogen loading/unloading systems, and the establishment of rules for loading / unloading liquefied hydrogen cargoes, which constitute a key part of these supply chains.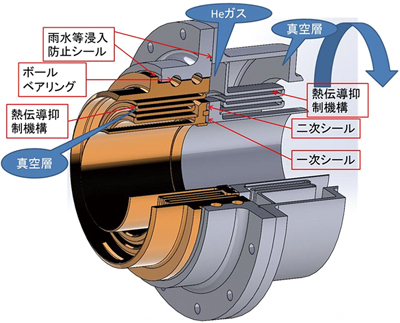 A swivel joint developed for use with liquid hydrogen cargoes

Development of liquefied hydrogen loading/unloading systems (the systems in the photograph is for LNG cargoes)
Studies on applicability of IoT and AI technologies in production and design processes
Expectations for the application of Internet of Things (IoT) and Artificial Intelligence (AI) technologies in manufacturing industries are growing rapidly. In order to determine their potential for application for innovations in ship design and production processes in the Japanese shipbuilding industry, JSTRA is engaged in efforts to study the latest development trends in IoT and AI technologies and examples of their introduction in production processes in other industries.
R&D of the practical implementation of Maritime Autonomous Surface Ship (MASS), including research and studies on business models for MASS (Supported by The Nippon Foundation)
JSTRA will develop a roadmap for the future technological development and implementation of MASS into society. To this end, JSTRA is engaged in studies and research into the concept and business feasibility of autonomous maritime transportation systems and their operation, the technologies and the development of social environments (including necessary infrastructure and social systems).
Promoting of R&D Project
In addition to the above, JSTRA is also engaged in promoting studies and research projects for ship technology and marine development, based on needs in industry segments.
Incubation and Incubation Phase-Up Programs
JSTRA conducts studies and research using the following approaches as a means of emergent and/or cutting-edge research to explore and discover new possibilities for future R&D projects.

Feasibility studies for building basic technologies by analyzing the flow field around the stern
JSTRA conduct feasibility studies to identify R&D research issues which will contribute to increasing our understanding of flow field around the stern by incorporating the latest achievements in experimental and computational fluid dynamics, for the purpose of optimizing ship's stern design, which could have a significant influence on improving ship propulsion efficiency.
Providing platform for the creation of future ship technologies
Based on the results of studies on innovative ship technologies for the future, JSTRA advances discussions for providing "a platform for the creation of future ship technologies" for developing the technologies that will underpin the future competitiveness of Japanese maritime industry. The platform include mechanisms for gathering the latest technical information from other fields and exchanging opinions on the information and approaches to the development of human resources needed in order to develop ideas based on a wide-range of industrial and social trends and achieve the concrete realization of those ideas.
Studies and Research
Based on an understanding of the ship technology needs of the maritime industries, JSTRA conducts to enhance its information gathering and organization capabilities with regard to ship technology related R&D trends, overseas technologies and political policies, and trends on international regulations and standards relating to environment conservation and safety.
Main R&D Projects Completed in or Prior to FY2017
Studies on the realization of the Visualization System in Shipyards
"Shipyard Visualization System". was developed from FY2015 to FY2016, with the aim of accelerating the sophistication of production management in the Japanese shipbuilding industry through the use of ICT. JSTRA has completed R&D efforts to enhance the functionality and improve the analytical precision and convenience of this system in FY2017 and then from September 2017, JSTRA has announced trial use of this system as a cloud service of the internet.
A screenshot of one of the Shipyard Visualization System's analysis screens
Studies on the application of 3D printing technologies in the fields of shipbuilding and maritime equipment
Due to high expectations for the utilization of 3D printing technology in the development and design of innovatively-shaped ship models in the future, JSTRA carried out a feasibility study to determine the applicability of these technologies in creating model ships. Utilizing 3D printers to fabricate a 4 m class (assembly-type) model ship and conduct water tank tests, JSTRA conducted validation tests to investigate the impact and correlation between factors such as structure and shape, etc., and considered the necessity for (and methods for applying) corrective measures. JSTRA also considered the applicability of these technologies in applications such as multipoint pressure distribution measurements, with a view to their use in new research themes such as ship stern flow analysis.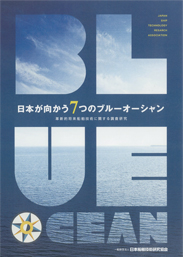 Basic studies on developments in new marine frontiers
IEC is an international organization that develops international standards in the fields of electrical and electronic engineering, communications, nuclear power, and other electrotechnical fields. It is comprised of national standards organizations from its various member countries.
Studies on innovative ship technology for the future
JSTRA has boldly forecast the ideal future vision "Blue Oceans" of Japan's maritime industries. JSTRA has formulated "Seven Blue Oceans of Japanese Maritime Industry," adopting back-cast thought and considering future technology development strategies.
Entrusted research
Studies and considerations for the formulation of safety guidelines for hydrogen fuel-cell vessels (Entrusted by Ministry of Land, Infrastructure, Transport and Tourism (MLIT))
JSTRA formed a consortium in partnership with the National Maritime Research Institute (NMRI) and Yanmar Co., Ltd. to develop safety guidelines for hydrogen fuel-cell vessels. The consortium drafted a set of safety guidelines based on knowledge obtained through related studies and considerations, and experiments with actual vessels.
Technical studies and research for safety evaluations, etc., pertaining to the introduction of assistive suits for upward-facing work tasks in shipyards (Entrusted by MLIT)
JSTRA conducted evaluative research into three types of assistive suits that it developed between FY2015 and FY2016 to assist workers at shipyards and other industrial locations in upward-facing work tasks. Through using at shipyards, JSTRA investigated change in the safety, fatigue level, work efficiency, quality of work and usability of each suit during use. Based on the results of these studies, JSTRA prepared safety guidelines (development guidelines for manufacturers and guide for users) for assistive suits for upward-facing work tasks in shipyards..