Main R&D Projects Currently Underway
R&D on Safety Evaluation related to The Nippon Foundation MEGURI2040 Fully Autonomous Ship Program (Supported by The Nippon Foundation)
In order to seek to create further opportunities for technological development in this field, promote innovation in Japan's logistics, economy and social platforms, and support related technological development, the Nippon Foundation launched the " MEGURI2040 Fully Autonomous Ship Program" in 2020 aiming to demonstrating Maritime Autonomous Surface Ship (MASS) systems by FY2021 and commercializing MASSs by 2025. As a project supported by the Nippon Foundation, JSTRA is running the "MEGURI 2040 Safety Evaluation" project, which not only conducts safety assessments for individual ships on which demonstrations are conducted but also resolves various issues, including the development of safety assessments and their methods. Through the project, JSTRA aims to support the commercialization of MASSs, increase their acceptance in society, and help transform and develop Japan's maritime industry.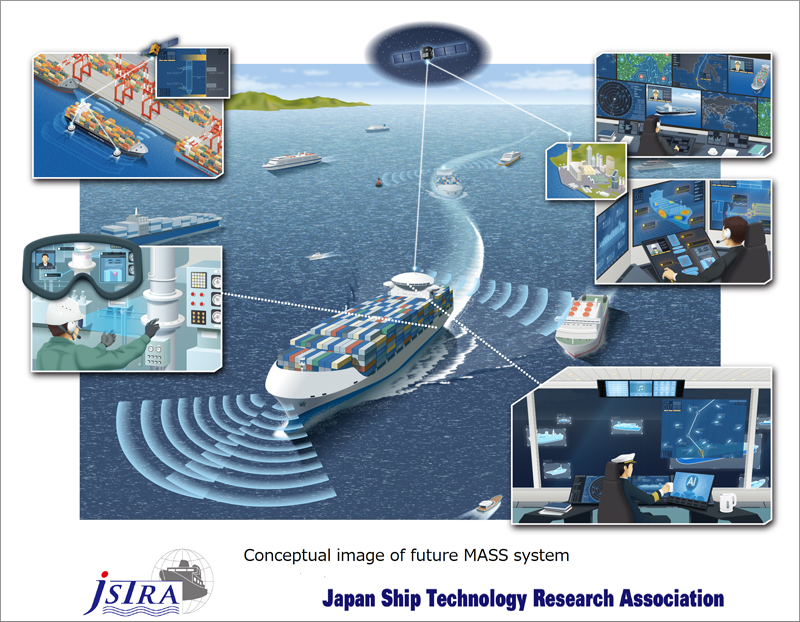 You can get a guideline for risk analysis for MASS titled "Risk Analysis Procedure of an Autonomous ships". Click here to download it.
You can also access a promotion video of the project (FY2021). Click here to view it.
Promoting of R&D Project
In addition to the efforts introduced on the left, JSTRA is also engaged in promoting studies and research projects for ship technology and marine development, based on needs in industry segments.
Incubation and Incubation Phase-Up Programs
JSTRA conducts studies and research using the following approaches as a means of emergent and/or cutting-edge research to explore and discover new possibilities for future R&D projects.
| | |
| --- | --- |
| Platform Provision Approach | Preliminary studies and research projects, with multiple enterprises participating |
| Top-runner Support Approach | Joint studies and research projects on a particular subject, where a specific enterprise wishes to engage in independent development |
| Field Survey Approach | Investigative studies into R&D trends in other fields of study, or into the progress of basic research at universities, etc. |
| Incubation Phase-up Approach | More deeply involved investigative studies and research projects for the development of specific technologies, created through the phasing-up of incubation projects |
Studies on image recognition system for marine use
JSTRA is developing Big Data (including data for supervised learning) for image recognition for marine use. JSTRA would like to improve the safety of ship operations and support for the activities of crews by utilizing AI technologies (especially Deep Learning).
Feasibility studies for building basic technologies to analyze the flow field around the stern
JSTRA conducts feasibility studies to identify R&D research issues which will contribute to increasing our understanding of flow field around the stern by incorporating the latest achievements in experimental and computational fluid dynamics, for the purpose of optimizing ship's stern design, which could have a significant influence on improving ship propulsion efficiency.
Differences in flow field around the stern
with and without stern fins (PIV measured values)
Source: Shipbuilding Research Center of Japan (SRC)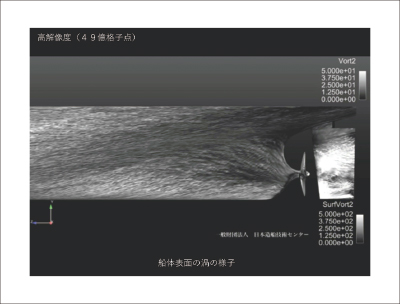 Vortex around the surface of a ship's hull
(CFD calculation results)
Source: Shipbuilding Research Center of Japan (SRC)
Studies and Research
Studies and Research Based on an understanding of the ship technology needs of the maritime industries, JSTRA conducts to enhance its information gathering and organization capabilities with regard to ship technology related R&D trends, overseas technologies and political policies, and trends on international regulations and standards relating to environment conservation and safety.
Main R&D Projects Conducted Up Until FY2018
R&D of the practical method of laser-arc hybrid welding for thick plates
JSTRA has developed a device that enables hybrid welding by a combination of laser-arc hybrid welding technology and weld seam tracking technology for automatically detecting weld seams. By using this device, JSTRA conducted comprehensive validation testing of weld T-joints and butt joints on long workpieces (at a length of 5m), and was able to confirm the integrity of the weld joints and then to validate the effectiveness of the device.
The laser-arc hybrid welder developed in the project
Development of cargo loading system for liquefied hydrogen and the relevant rules for operation
In order to meet possible massive demand for hydrogen in future, it will be necessary to establish a series of hydrogen supply chains to facilitate the production of hydrogen overseas using inexpensive brown coal or renewable energy sources, and to liquefy and transport it to Japan. For this purpose, JSTRA has developed a loading arm for transferring the liquefied hydrogen cargoes that will constitute a part of this supply chain. The loading arm mechanism features a structure specialized with high heat-insulation performance and swivel joints (i.e. arm couplings with a rotating mechanism) that enable safe operation while offering a high degree of heat insulation and rotatory action. It is also equipped with a decoupling mechanism for safe release with minimized hydrogen leak in the event of an emergency. To ensure safe loading of liquefied hydrogen, JSTRA has prepared a couple of drafts for international standards on loading arms and operation procedures of loading; and submitted a proposal for the loading arm standard to ISO.
Loading arm developed for use with liquefied hydrogen cargoes
A swivel joint developed for use with liquefied hydrogen cargoes
Studies on applicability of IoT and AI technologies in production and design processes
To illustrate the potential application of AI technologies for innovations in ship design and production processes in the Japanese shipbuilding industry, JSTRA studied a wide range of ideas incorporating AI into the design and production processes.
Studies on the realization of "Shipyard Visualization System
The"Shipyard Visualization System" was developed from FY2015 to FY2016, with the aim of accelerating the sophistication of production management in the Japanese shipbuilding industry through the use of ICT. JSTRA announced trial use of the system as a cloud service of Internet from September 2017.
A screenshot of one of the Shipyard Visualization System's analysis screens
Studies on innovative ship technology for the future
JSTRA has boldly forecast the ideal future vision "Blue Oceans" of Japan's maritime industries. JSTRA has formulated "Seven Blue Oceans of Japanese Maritime Industry," adopting back-cast thought and considering future technology development strategies.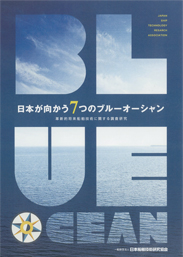 The Seven Blue Oceans that Japan is aiming for with its maritime industries
Entrusted research
Investigative research to establish methods for assessing the safety of floating offshore wind power generation facilities (Entrusted by Ministry of Land, Infrastructure, Transport and Tourism (MLIT))
JSTRA formed a consortium in partnership with the National Maritime Research Institute (NMRI) and the University of Tokyo, and engaged in studies, discussions and a water tank test for floating offshore wind farms. Based on the results of these efforts, the consortium developed an alternative measure to the damage stability requirements under the safety guidelines covering floating offshore wind power generation facilities.